Business Model Validation: What Makes Business Models Work?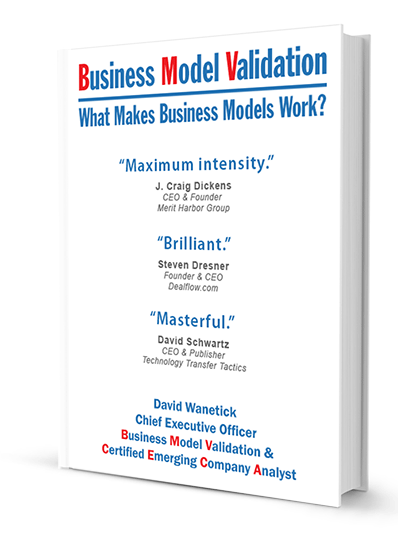 "Maximum intensity."
- J. Craig Dickens, CEO & Founder, Merit Harbor Group
"Brilliant."
- Steven Dresner, Founder & CEO, Dealflow.com
"Masterful."
- David Schwartz, CEO & Publisher, Technology Transfer Tactics
"David Wanetick has done it again! This book is a must-read for anyone thinking about investing time and money developing businesses or making investments. David brilliantly shows how to validate the integrity of various business models. Captivating reading!
- Brian Hinman, Chief Intellectual Property Officer, Philips Intellectual Property & Standards
"It has been said that success or failure is usually determined on the drawing board. David's insight is a great guide for any company executive or entrepreneur to apply original thinking before taking their business initiatives forward."
- Christopher A. Marlett, CEO, MDB Capital Group
"David Wanetick presents a tour de force in original thinking on a wide range of issues of importance to executive leaders."
– James Kristie, Editor and Associate Publisher, Directors & Boards
"Wanetick's analysis of business models is multi-dimensional and unique. Jam packed with practical advice."
- Reid Drescher, Chief Investment Officer, Cape One Advisors
"Business Model Validation distills over two decades of conducting painstaking company and industry research down to a readable book filled with valuable insights unavailable anywhere else.
- David Sterman, Market Strategist, StreetAuthority.com
"Due diligence is a critical function in evaluating corporate transactions. Too often, due diligence is approached with a check-list mentality. With hundreds of intriguing examples, Business Model Validation shatters the mold on check-list mentality due diligence.
- Michael R. Nall, CPA, CM&AA, CGMA, Founder, Alliance of Merger & Acquisition Advisors
"Business Model Validation provides a thorough and thoughtful framework for analyzing business models. A plethora of current and historic examples enables the reader to apply that framework. This book is valuable for investors, entrepreneurs, and anyone interested in understanding the intricacies of a wide array of businesses."
- Daniel Shvartsman, Managing Editor (SA PRO), Seeking Alpha
"David Wanetick provides an exhaustive but easy to read review of the key metrics needed to assess business models. Business Model Validation is packed with hundreds of examples from a wide variety of industries. This work is a wise investment for all analysts, investors, bankers and entrepreneurs looking for an edge."
- David T. Foster, Partner, 1624 Capital LLC
"Brilliant. No one tackles the subject of evaluating business models with as much rigor as David Wanetick in Business Model Validation.
- Steven Dresner, Founder & CEO, Dealflow.com
"David Wanetick displays an amazing intensity in assessing emerging business models. Business Model Validation is chock full of revelations that have monetary application. Required reading for all investors and business executives."
- J. Craig Dickens, CEO & Founder, Merit Harbor Group
"David Wanetick synthesizes over twenty years of industry and company analysis into a very readable and enjoyable book. Business Model Validation is ideal for anyone that wants to sharpen their analytical skills. Decision-makers and investors at all levels will learn powerful lessons from these pages.
- Jeffrey Kadlic, Co-Founder & Managing Partner, Evolution Capital Partners
"A definite must read."
- Jason Loh, Head of Strategic Planning Office and Head of Global IP Frontiers, Panasonic R&D Center Singapore
An invaluable resource for business leaders and investors.
- Luc Chamberland, Financial Analyst, Hydro-Québec - Groupe Technologie
"This is an outstanding read filled with insight and expert analytical strategy. David Wanetick presents real-world examples that crystallize important business model concepts in an engaging way. Even veteran business executives will immensely benefit from reading Business Model Validation. I highly recommend it."
- David Schwartz, CEO & Publisher, Technology Transfer Tactics
"In an era of evolving business models, David delivers to us a beacon and a guide post as to what works and what doesn't in both established and emerging industries. If your company operates in a dynamic environment, this is a must read for your executive team."
- Andrew J. Sherman, Partner, Jones Day, Author of Harvesting Intangible Assets and 20+ related titles on business growth and strategy